When it comes to pressure washers they can be divided up into two main types – electric powered and gas engine powered. Electric models are cheaper and considered light duty suitable for residential jobs. Gas models have more cleaning power and may be designed for residential or industrial applications. They are much more expensive and require fuel to operate, but are also more portable and great on job sites.
They can also be divided up into categories ranging from light duty to extra heavy duty based on how much pressure they output in terms of PSI (pounds per square inch). (See chart at the bottom of this page for the proper application for different cleaning jobs). In addition to PSI, the other important spec to look for is GPM which is the gallons of water per minute a sprayer uses. You can then calculate the total cleaning power by multiplying PSI by the GPM.
While prices range from about $100 up to well over $1000, for this article we focused on models designed for residential use that cost less than $500. We selected the top 5 best electric and gas pressure washers. See our reviews on each and their specs below.
---
Best Electric Pressure Washers
---
---
---
---
---
---
Best Gas Pressure Washers
---
---
---
---
---
---
Electric Pressure Washer Comparison Chart
Pressure Washer
Rating
Price
Engine/Motor
PSI
GPM
Cleaning
Power
Adjustable
Pressure
Hose
Length
Hose
Diameter
Detergent Tank
Weight
Dimensions (LxWxH)
Sun Joe SPX3001
9.1
$179.00
14.5 Amp / 1800 Watt
2030
1.76
3572.8
No
20 Feet
.25″
1.2L
32 lbs
16.5″ x 14.4″ x 33.5″
AR Blue Clean AR390SS
9.1
$199.99
14 Amps
2000
1.4
2800
No
30 Feet
.25″
48 oz
42 lbs
17″ x 16″ x 38″
Sun Joe SPX3000
9
$129.99
14.5 Amp / 1800 Watt
2030
1.76
3572.8
No
20 Feet
.25″
Dual 0.9L
31 lbs
13.5″ x 15.6″ x 33.9″
Karcher K5 Premium
9
$224.99
13 Amps
2000
1.4
2800
No
25 Feet
.25″
Single Tank
35.4 lbs
23.3″ x 15.6″ x 16.7″
Karcher K1800
8.8
$161.67
13 Amps
1800
1.2
2160
No
20 Feet
.25″
0.5 gallons
24.8 lbs
22″ x 17.25″ x 33″
---
Gas Pressure Washer Comparison Chart
Pressure Washer
Rating
Price
Engine/Motor
PSI
GPM
Cleaning
Power
Adjustable
Pressure
Hose
Length
Hose
Diameter
Detergent Tank
Weight
Dimensions (LxWxH)
Generac 7019 OneWash
9.2
$399.00
Generac 196cc
3100
2.4
7440
No
25 feet
1/4″
0.5 gallons
57 lbs
24.2″ x 18.9″ x 35.5″
Simpson MSH3125-S Megashot
9.1
$379.99
Honda 190cc
3100
2.5
7750
No
25 feet
1/4″
Siphon Tube
85 lbs
33″ x 21″ x 19″
Generac Speedwash 6882
9.1
$349.00
Generac 196cc
2900
2.4
6960
No
30 feet
1/4″
2 Quarts
57 lbs
24.2″ x 18.9″ x 35.5″
Generac 6923
9.1
$341.00
Generac 196cc
3100
2.4
7440
No
25 feet
1/4″
0.5 gallons
57 lbs
24.4″ x 18.9″ x 35.5″
Karcher G2700
8.7
$249.99
Karcher 196cc
2700
2.5
6750
No
25 feet
1/4″
Single Tank
48.5 lbs
21.3″ x 18.5″ x 24.8″
---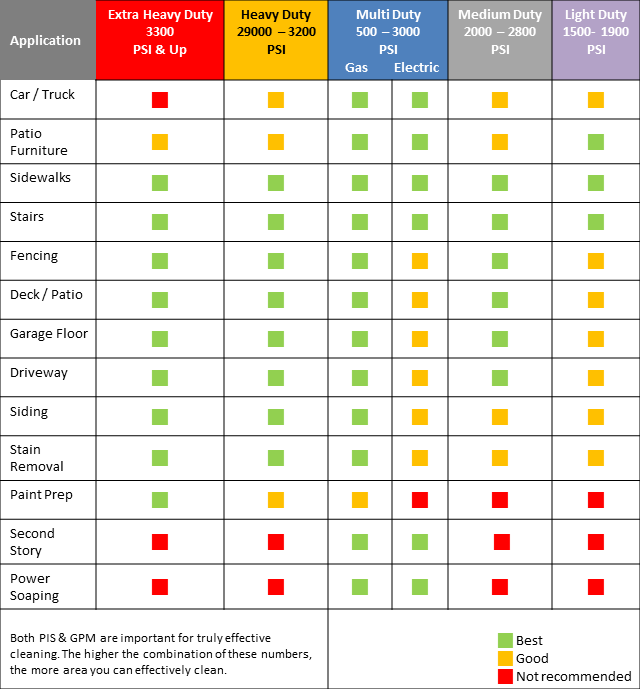 ---
You Might Also Be Interested In
---